Lugging your fully packed luggage around an airport without wheels makes your hand muscles feel like they might just give out on you. It may delay your arrival time at your destination as you have to keep stopping for breaks.
If your carry-on bag is larger than the underseat, you'll have to pay high fees to check it at the gate. Carrying underseat luggage with spinner wheels will make your travel much easier, according to your plan.
Using the best underseat luggage with spinner wheels, you can easily transport items while keeping your hands free. It will fit under any airplane seat and withstand travel rigors. Here we share some top-rated underseat carry on bags with spinner wheels that will make your travel enjoyable.
What Size Bag Can Fit Under an Airplane Seat?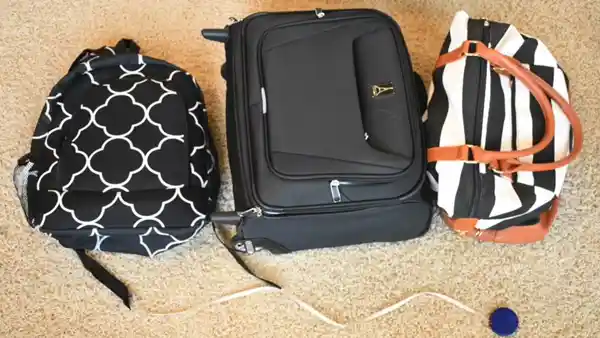 Airline policies determine what size bag you can bring on a plane. There are a few different size restrictions for carry-on bags, and as long as your bag falls within those guidelines, you should be able to stow it under your seat.
Most airlines allow carry-on bags 18 inches long by 14 inches wide by 8 inches deep. That means it cannot exceed 40 linear inches in total.
Some airlines allow underseat bags to be 22 x 14 x 9 inches. The maximum length is 45 linear inches or 30L in capacity.
It's always a good idea to check with your airline before packing to ensure you're aware of any luggage size restrictions. If you are unsure whether your bag meets these requirements, many airlines have sizing templates, and you can contact the airline directly.
Buying Guide on a Spinner Underseat Luggage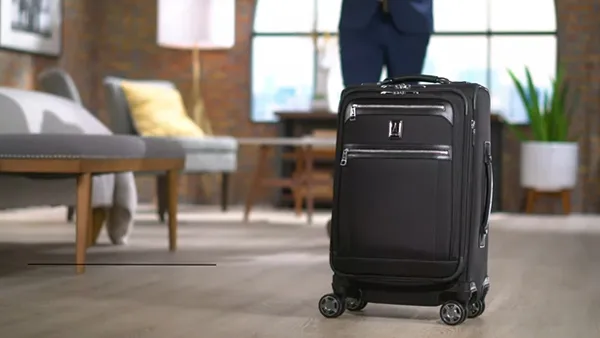 No one wants to be lugging around a heavy bag with wheels that don't work. That's why it's important to invest in quality rolling luggage that will make your travels more enjoyable. If you're looking for the best underseat carry-on luggage with wheels, you should keep a few things in mind.
Luggage Size:
Most airlines have strict size limitations for carry-on luggage, and many travelers find that their regular bag is too large to meet the requirements. Sometimes airlines change their rules about what size bag to bring on a plane with you.
Underseat luggage with spinner wheels must fit under an airplane seat. They are often larger than a personal item, such as a purse or laptop bag, but smaller than a carry-on bag. It makes them ideal for short trips when you don't need a lot of stuff with you.
The large size can be hard to get in and out of under the seat. When packing, try to keep the weight down so that it's easy to carry. And remember, you'll probably have to lift it over your head at some point, so make sure it's not too heavy.
Material:
The material of luggage needs to be soft to put it under the seat, but also stiff enough so that it does not collapse when full and being sat on. A good underseat luggage with spinner wheels is made from a durable fabric that can withstand a lot of wear and tear.
Polyester is a water-resistant and anti-scratch fabric that keeps your belongings safe and dry. Nylon is a Lightweight and durable fabric perfect for travel. It's also resistant to tearing and staining.
Some travelers prefer hard-sided luggage made of polycarbonate or ABS plastic because it offers more protection for your belongings. But you need to remember that it's often more difficult to fit under the seat.
Number of Wheels:
There are four-wheel, eight-wheel, and two-wheel sets. The four-wheel option is excellent for maneuverability. It can spin on its axis, making it easy to navigate through tight spaces.
An eight-wheeler is more stable and less likely to tip over. It is easy to maneuver and can glide smoothly over any surface.
Traditionally, the two-wheel design was used for pulling behind the user like a suitcase. It's the most common type of luggage, but it can be difficult to maneuver in tight spaces.
Also, consider the directional capability of the wheels. Multi-directional wheels offer 360-degree maneuverability, while smooth-rolling wheels provide a more comfortable ride. Heavier bags will require stronger wheels, so choose a set that can handle the weight of your bag.
Push-button Handle:
This luggage should feature a telescoping push-button handle to make it easy to adjust the height of the bag. Its ergonomic design ensures that the bag will be comfortable to carry, even when it's fully packed.
With the wide pull handle, it's easier to control and grip the bag. The sturdy construction ensures a long life of reliable use.
Some underseat luggage with spinner wheels also has a top handle for carrying the bag by hand. It is helpful when you're trying to lift the bag into the overhead bin or onto a shelf.
Pockets and Compartments:
It should come with several interior and exterior pockets or compartments, which can be used for storing everything from clothes to shoes. The interior pockets are often padded, offering extra protection for delicate items.
Meanwhile, the external pockets are perfect for storing items you need quick access to, such as a water bottle or a map. The slip pockets are great for holding smaller items like your passport or boarding pass.
Its elastic band in the pocket is great for keeping everything securely in place. With all of these compartments, underseat luggage with spinner wheels helps you keep everything organized so that you can focus on enjoying your trip.
Extra Features:
Some underseat luggage with spinner wheels comes with an expansion zipper that allows you to add a few extra inches when you need it. This can be useful if you're packing for a more extended trip and need a little more space.
They also come with a built-in TSA lock, which allows you to secure your belongings while going through airport security. A USB port is a great feature if you need to charge your phone or other devices while on the go.
Some bags even come with a built-in power bank, so you don't have to worry about running out of juice.
The Smarts Sleeve is a great feature that allows you to slide your bag over the handle of a rolling suitcase. It can be very handy for trying to navigate through a busy airport.
You can also use it when standing in line or waiting for a flight. Others have an add-a-bag strap, which lets you attach a second bag for easy carrying.
Top 5 Recommended for the Best Underseat Luggage with Spinner Wheels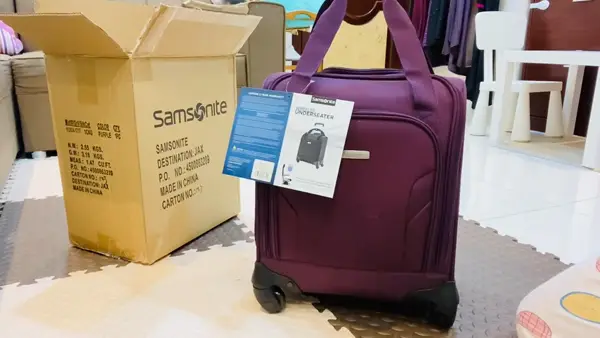 Traveling can be a hassle, especially when packing a heavy bag and lugging it through the airport. And if you're flying budget, you also have to worry about fitting everything into the small overhead compartment.
That's why having a good piece of underseat luggage is essential for any traveler. It will save you from having to check your bag. To help you find the perfect piece of underseat luggage bag, we've compiled a list of the top five options on the market.
01) Samsonite Underseat Carry-On Spinner With USB Port
Key Features:
Built-in USB port
360 spinner wheels
Front and side pockets
A padded laptop Compartment
Push button locking handle
Product Specs:
According to Samsonite, the bag has internal dimensions of 15 x 13 x 8 inches, so it fits comfortably under most airplane seats. The spinner wheels make it easy to maneuver, even in tight spaces so that you can easily get to your destination.
A USB port is included for charging electronics and quick stash pockets on the exterior for easy access to belongings. It is easy to maneuver due to its ergonomic, push-button locking handle.
Why Might You Find It Useful?
The Samsonite underseat carry-on spinner with USB port is perfect for anyone who wants to stay organized while they travel. You can keep track of everything you need thanks to the separate compartments. The zipper pocket on the outside provides an extra bit of storage space.
You can also pack a week's worth of clothing in the wheeled bag, so you can travel light without worrying about packing heavy bags. The USB port makes it easy to charge your devices on the go.
It is spacious and fits even a 15-inch laptop, making it perfect for work or school. The bag is a lightweight under seat luggage bag that is easy to maneuver.
Pros:
Separate compartments for organization
Zipper pocket on the outside for additional storage
Can hold a week's worth of clothes
Fits even 15 inches laptop
Lightweight for easy maneuverability
Spinner wheels for easy movement in any direction
Cons:
Its straps are somewhat flimsy
The handle doesn't lock when fully extended
---
02) American Tourister Zoom Turbo Spinner Luggage
Key Features:
Push-button handle
Expansion on all sizes
360 dual spinner wheels
Exterior front and side pockets
Smart sleeve slides
Product Specs:
This bag from American Tourister has packing dimensions of 14.4 x 13" x 8" and overall dimensions of 16" x 14"x 9". It also weighs in at 6.4 lbs., making it easy to carry with you on your travels. A large U-shaped opening makes your packing and accessing belongings easy.
It features two exterior front and side pockets and a sleeve that slides over the upright case handle, so you can move around. The wider pull handle with aluminum material reduces weight for easier maneuvering, while the tough polyester ensures your belongings are safe and sound.
Why Might You Find It Useful?
It is a lightweight luggage item that is sturdy and lightweight at the same time. The American Tourister Zoom Turbo Spinner Luggage features two compartments on the lid, one inside and one outside.
You can store your stuff in many pockets, and the color will complement any outfit. It also has a separate liquid pocket, which is great for storing any liquids or toiletries you may need while on your trip.
With this spinner luggage, you get heavyweight protection. A 360-degree spinner wheel makes the luggage easy to maneuver.
Pros:
Lightweight and sturdy
The inner compartment on the lid
The extra compartment on the outside of lid
Comes with a separate liquid pocket
Has a number of pockets
Wheels are smooth and roll effortlessly
Cons:
The zippers keep getting stuck
Easily tips over at full capacity
---
03) VERAGE Underseat Carry On Luggage with Wheels
Key Features:
Underseat size
Water-resistant fabric
Anti-scratch fabric
Multi-directional wheels
Smart Sleeve
Product Specs:
It has water-resistant fabric and durable polyester to keep everything dry and safe. The dimensions are 14.4×13.3×8.5 inches, and it weighs 5 pounds.
You won't have to worry about your stuff getting scratched because the fabric is anti-scratch. It has a large main compartment that can hold a variety of items and a padded laptop compartment that keeps your device safe and secure.
There are organizational pockets on the front of the bag to store smaller items and zippered pockets on both sides for extra security. Due to its multidirectional eight-spinner wheels, you can maneuver the luggage easily through airports and other tight spaces.
Why Might You Find It Useful?
Th VERAGE underseat carry on luggage with wheels is lightweight yet durable, making it suitable for travel. You can store everything you need inside the spacious interior, while the exterior is colorful and pleasant to look at.
With the stroller, you can fold and unfold it quickly. There is also a zippered slot that holds your battery pack, keeping your phone charged.
It has a telescoping push-button handle and a sturdy carry handle, making it easy to roll around without wobbling. You can attach the bag to a larger suitcase using the sleeve at the back of the bag.
Pros:
Lightweight and Vibrant colors
Plenty of space for everything you need
The stroller easily folds and unfolds
Easy to roll on any surface
Smart Sleeve lets you connect the two easily
Zippered slot holds your battery pack
Cons:
Need two hands to zip around the top curve
Doesn't fit overhead or under seats on small aircraft
---
04) Steve Madden Underseat Spinner Wheels Luggage
Key Features:
Most airplane friendly
Safe polyester fabric
2-wheeled backpack
TELESCOPIC Push Button handle
Multiple compartments
Product Specs:
Steve Madden made underseat spinner wheels luggage from high-quality polyester fabric. It has a stylish, unique style and an elegant design. The case size is 15 X 9 X 14 inches, and the bag weight is 5 lb.
For easy mobility, the luggage is equipped with four spinner wheels. Using the telescopic handle system makes it easy to maneuver, and the ergonomic handle gives it a comfortable grip.
It is small enough to fit underneath the seat in front of you. You can also carry the luggage at the gym, during sports, or as a backpack. With its spacious interior, it's even convenient to take to the hospital.
Why Might You Find It Useful?
Its telescopic handle allows you to adjust it to your ideal height. With eight spinner wheels that allow it to operate in a variety of directions, it is easy to navigate through crowded airports and busy streets.
At first glance, the luggage seems small, but it holds much more. The Steve Madden underseat spinner wheels luggage, comes with several compartments and pockets for storing your belongings.
You can store important items in the front zippered compartment during your trip. If you need to store toiletries, use the plastic zippered areas.
Using the external zipper pockets, you can easily grab what you need, and the USB port allows you to keep your devices charged. All the zippers are solid and easy to find, so you can quickly get to what you need.
Pros:
Has a lot of pockets and compartments for storage
Zippers are all solid and easy to find
Front zippered compartment
Plastic zippered areas for toiletries
Telescopic handle for a comfortable grip
Cons:
A bit short wraparound piece that holds handles together
Wheels are noisy for solid rubber plastic
---
05) Kenneth Cole Reaction 8 Wheel Expandable Luggage Spinner Suitcase
Key Features:
4-wheel 360° spinner
Lightweight construction
Chevron-quilted exterior
Tear-resistant interior
Retractable trolley handle
Product Specs:
Kenneth Cole Reaction brings out this expandable spinner suitcase. The overall dimensions are 17" H x 13" L x 9" D, and the internal packing dimensions are 15" H x 12.5" L x 8.5" D. It weighs 5.6 pounds, so it is lightweight.
You can store your belongings securely in the zippered pocket and transport them easily with the retractable trolley handle. A rear exterior trolley tunnel makes attaching your luggage carrier easy. With its eight multidirectional spinner wheels, this suitcase is easy to maneuver.
Why Might You Find It Useful?
The Kenneth Cole Reaction 8 wheel expandable luggage spinner suitcase is a lightweight and compact option that is nice to look at. With its expandable design, it can provide more storage space when needed.
You will find that it has organizational pockets for easy finding of your belongings, as well as a front pocket for carrying an iPad. With its light-colored lining, you can clearly see your belongings.
The back strap slides over the other suitcase handle easily. With four 360° rotating wheels, it's easy to roll.
Pros:
360° wheels for easy transport
Various compartments for easy organization
Light colored lining makes it easy to see inside
Fits over the handles of the larger luggage
Suitable for weekend getaways
Con:
It needs more care to use for a long time
---
This is our list of the best underseat bags with spinner wheels. We hope you found it helpful in your search for the perfect luggage. These wheeled bags are lightweight, durable, and have handy features like spinner wheels and expansion zippers.
Comparison Chart of Spinner Underseat Luggage:
| | | | | |
| --- | --- | --- | --- | --- |
| Product Name | Packing Dimensions | Weight | Wheels | Color Available |
| Samsonite Underseat Carry-On Spinner with USB Port | 15 x 13 x 8 inches | 5.5 pounds | 4-wheel multi directional (360°) | Jet Black (3 colors) |
| American Tourister Zoom Turbo Spinner Luggage | 14.4 x 13 x 8 inches | 6.39 pounds | 360 degree dual spinner | Black (3 colors) |
| VERAGE Underseat Carry On Luggage with Wheels | 14.4 x 13.3 x 8.5 inches | 4.85 pounds | Multi directional 8 spinner | Black (5 colors) |
| Steve Madden Underseat Spinner Wheels Luggage | 15 X 9 X 14 inches | 5 pounds | 2-wheel rolling spinner | Peek-A-Boo Grey(8 colors) |
| Kenneth Cole Reaction 8 Wheel Expandable Luggage Spinner Suitcase | 15 x 12.5 x 8.5 inches | 5.6 pounds | 4-wheel multi-directional spinner | Black (3 colors) |
Can a Duffle Bag Fit Under Airplane Seat?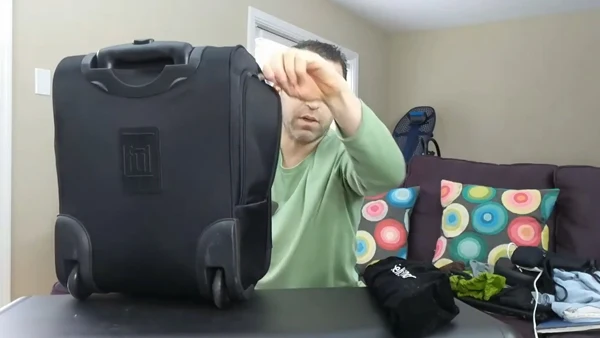 Duffle bags come in all shapes and sizes, so you need to buy small duffle bags if you want them to be kept under the seat. The bag should be no more than 18 x 14" x 8". With this size, you can carry all your essentials without taking up too much space.
Since they don't have any rigid sides, they can be easily tucked into tight spaces. The next time you're headed to the airport, rest assured that your duffle bag will probably fit under your seat.
What are the Under Seat Dimensions for Delta Airlines?
If you're planning to fly Delta Airlines and want to know the under seat dimensions for your aircraft, it is better to contact customer service. Generally, underseat dimensions can vary depending on the type of aircraft.
The CRJ200 and Embraer 175 have under seat dimensions of 18 x 16 x 10.5 inches. These dimensions provide ample space for carry-on luggage, personal items, and in-flight entertainment.
What Size Bag Fits Under Seat on Southwest Airlines?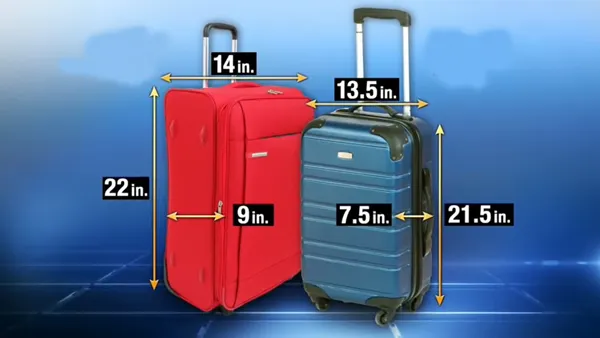 Southwest airlines have a strict policy regarding an underseat carry-on bag, and they have specific dimensions. The maximum dimensions for an under seat bag are 18.5 x 13.5 x 8.5 inches. You can use items such as a purse, diaper bag, laptop case, or small backpack.
The bag must be no larger than these dimensions to place under the seat. If your bag is too large, you must check it at the gate and pay the associated fee. So before packing your bag for your next Southwest flight, double-check the dimensions to avoid any problems at the airport.
Does Frontier Airlines Allow a Personal Item?
Frontier Airlines allows each passenger to carry one personal item on the plane. This personal item must be small enough to go under the seat and must not exceed 18 x 14 x 8 inches in size.
Examples of acceptable personal items include a purse, a small backpack, or a laptop bag. You can contact Frontier Airlines directly if you have any questions about what qualifies as a personal item.
Generally, as long as your item is small and can be stored safely under the seat, it should be allowed on board.
How Big is an Underseat Luggage on American Airlines?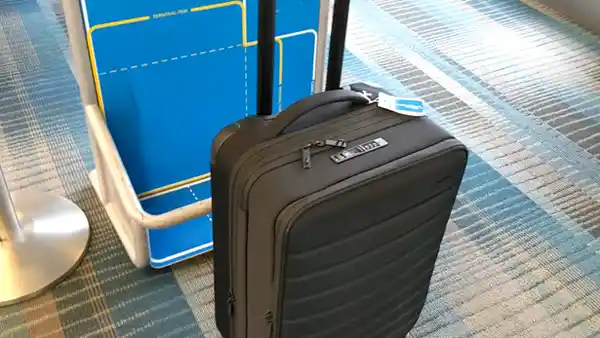 American Airlines has specific guidelines for under seat carry-on bags, and the maximum dimensions for an underseat bag are 18 inches long, 14 inches wide, and 8 inches tall.
This size limit ensures that the luggage bag will fit comfortably underneath the seat. It will not protrude into the aisle or block the view of other passengers.
American Airlines also has strict weight limits for this type of luggage, so check the website before packing your bag. With these guidelines in mind, you can be sure that your underseat luggage will meet the requirements of American Airlines.
How Big is an Underseat Luggage For Allegiant?
Underseat luggage size can be very important, especially if flying Allegiant. Most common underseat luggage sizes must be 16 x 15 x 7 inches or smaller to qualify as underseat luggage.
If your bag is too big, the gate staff will check it, which can be inconvenient and may result in additional fees. Avoid the hassle and make sure your underseat luggage is the correct size before you fly Allegiant.
How Roomy is an Underseat Luggage For Spirit Airlines?
If you're flying Spirit Airlines, you'll need to ensure that your underseat luggage is no larger than 18 x 14 x 8 inches. That's not a lot of space, so it's important to pack carefully. You'll also need to make sure that your bag weighs less than 40 pounds.
Is an Underseat Luggage a Personal Item Westjet?
Westjet's personal item policy is pretty straightforward: You're allowed to bring one personal item on board with you, and it must fit entirely beneath the seat. But what exactly counts as a personal item? Westjet's website doesn't specify, so it's up to each passenger to decide.
This includes items like luggage, a laptop bag, a duffle bag, or a small backpack. In order to ensure that everyone has a comfortable flight, each passenger is limited to one item of underseat bag no larger than 16x13x6 inches.
Can You Take Underseat Luggage on Ryanair?
Yes, you can travel with an underseat luggage on Ryanair as long as it meets their size requirements. The maximum dimensions for underseat luggage are 15.7 x 9.8 x 7.8 inches, and the maximum weight is 22 pounds.
If your bag is larger than these dimensions or weighs more than 22 pounds, you will need to check it at the ticket counter. Remember that checking a bag will incur additional fees, so it's always best to travel light if possible.
How Do You Measure Your Underseater Luggage Size?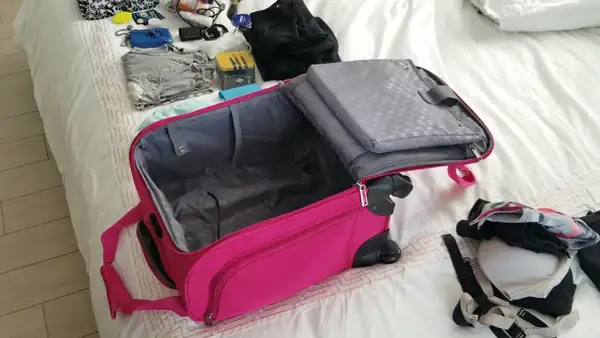 When packing for a trip, you must ensure that your carry-on understated luggage must fit under the seat ahead of you.
You need to measure the length of the bag. Retract your bag handle because it will take up space in the bag. Place one end of the tape measure at the base of the bag and extend it to the top.
Measure the width of the bag by placing the tape at the widest point and extending it to the narrowest point. Afterward, measure the depth of the pack from the front of the bag and extend it to the back.
For linear inches, add the length plus the width plus the depth. Once you have these three measurements, you can easily compare them to your airline's size requirements.
What Can You Pack in Your Underseat Luggage?
A lot can still be packed in an underseat luggage, as long as it fits within the specified dimensions. Some helpful items to pack in the bag include a blanket or shawl, a neck pillow, books or magazines, and a personal care kit.
You can pack essential items like your boarding pass, passport, and medication. Electronics such as headphones, phones, chargers, tablets, or small laptops can also be packed for the flight.
Pack snacks and drinks to keep hydrated and avoid feeling hungry on the plane. Don't forget hand sanitizer, tissues, and toiletries.
With this information, you are familiar with everything from the correct luggage size to what to pack in your underseat bag. It's time to pick the best underseat luggage with spinner wheels and get packing for your next adventure.